How Summit Ice Melt Systems are Controlled
Summit Ice Melt Systems carries a selection of manual and automated mechanisms to efficiently operate our line of ice melt systems for roofs.  Our in-house panel shop ensures quality and safety at every step of production.
A popular residential favorite is our 4CDC+ Digital Controller. It is an advanced digital controller that uses a thermistor to determine ambient temperatures.  When the outdoor temperatures drop below a set temperature, the system is automatically energized.  When the outdoor temperature warms again, the system shuts off.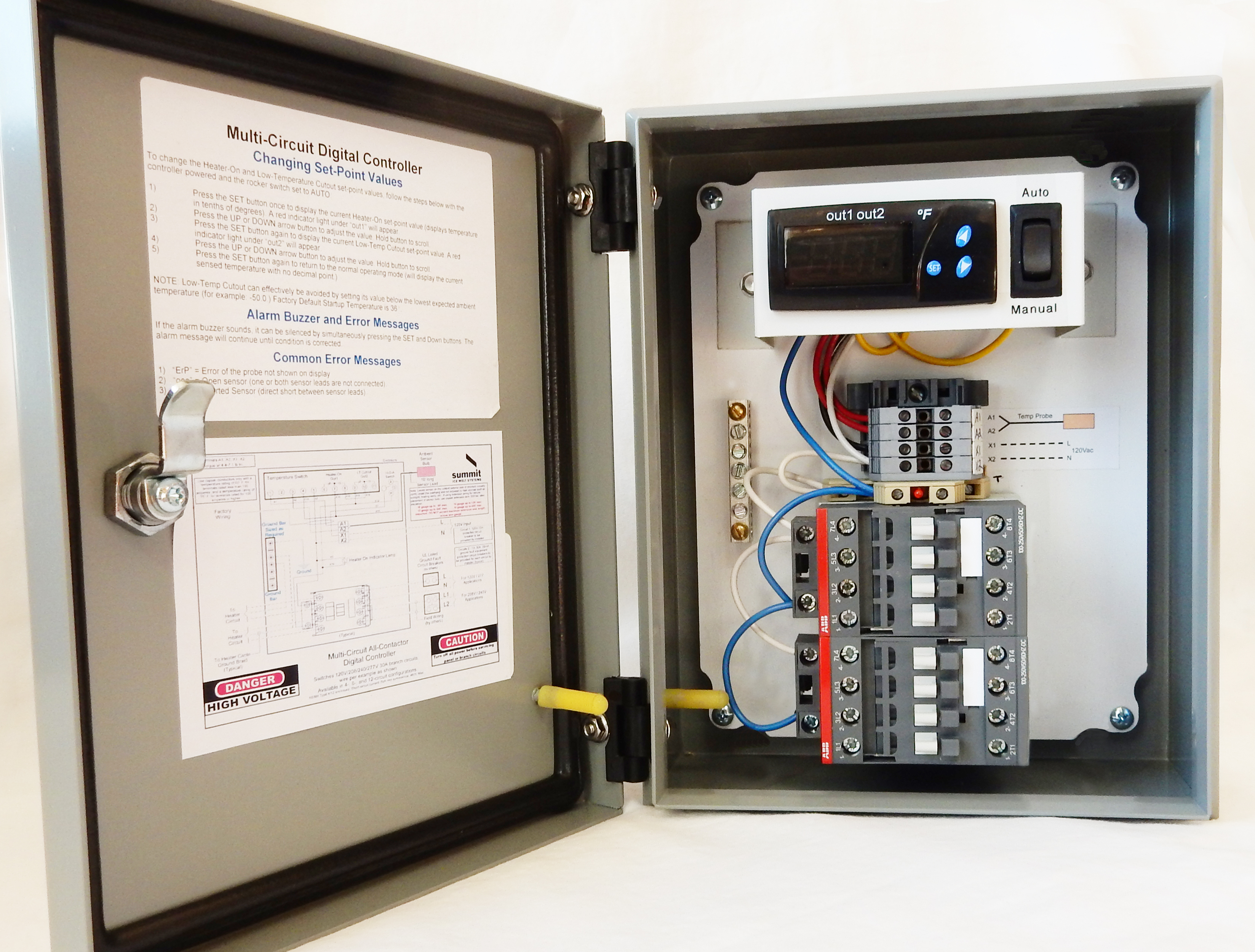 4-, 8-, and 12-CDC Multi-Zone Controller Features
Summit Ice Melt Systems' Multi-Zone controllers are the perfect match to any residential or small commercial Summit ice melt system installation.  It provides ambient temperature sensing digitally controlled operation for up to 4, 8, or 12 separate heating zones with 30A circuits each.
The digital readout provides a very user-friendly interface for users, and allows variations in programming to meet local conditions.
NEMA 4 (exterior installation) enclosures are included.
Set the controller to "Auto" mode and the system triggers when the temperature drops below a pre-set, field-adjustable temperature setting.
Set the controller to "Manual" mode for testing and manual operation.
The controller can be programmed for low-temperature cutoff.
The indicator light lets you know when the system is energized.
The ambient temperature sensor is mounted outdoors in an area typical of the coldest conditions, usually on the north exposure of the building. A built-in alarm notifies the operator if there is an error with the probe or short or open sensor leads.
Summit's Multi-Zone controllers have been engineered and perfected by our Certified UL 508 panel building shop to ensure top performance and safety.
The 4-, 8- 12-CDC PLUS Controllers offer complete bis wire shut off protection.
Summit's Multi-Zone controllers provide On/Off/Manual operation of its S1 and S2 (120Vac to 277Vac) or EverClear 812 and 822 (120Vac to 277Vac) self-regulating heater cables by energizing up to 4, 8, or 12 individual branch circuits. Each branch circuit must be protected by a ground fault protection device per the NEC. A 120Vac protected circuit is required to energize the controller.