Call today! 530-583-8888
Click Here for Summit Ice Melt Systems Complete Product Catalog
Summit designs and manufactures advanced, high performance, energy-efficient roof ice prevention systems for light, moderate, and heavy snowfall areas.
Why Summit?ProductsLearn myths technical Our patented PRO system Product Catalog
BREAKING NEWS– SIX PATENTS GRANTED: We are pleased to announce Summit Ice Melt Systems has been granted SIX patents (and more pending) on our
Roof Ice Melt Systems.
Select PRO to get PATENTED energy efficiency and performance benefits ONLY available from Summit. Our systems are protected under U.S. Patents #8,946,601, 9,982,438, 10,072,422, 10,604,937, 11,414,870, 11,598,099, and other patents pending.
Why Choose Summit Ice Melt Systems? Click HERE to learn even more.

Get advanced, patented features available only from Summit


UL approved heating system


45+ years on-the-roof and construction experience in extreme ice and snow country


45+ years ice melt system experience


Expertly engineered system layouts custom designed for your project


True money-saving, energy-efficient systems – and we show you why

Lowest installed cost, lowest operational cost–save year after year


Unmatched innovations in all product lines


Up to a 20-year certified warranty for our heater cable


All components are proudly made in the USA


Ultimate quality controlled in-house CNC precision manufacturing


Need it now? We have fast shipping!
Protecting your property has never been easier or more affordable
Easy-to-install ice prevention solution provides safety and convenience
Smart roof ice management that protects you, your investment, and the building'soccupants.
Saves you money in lower operating costs
Reliable, high-performance heating systems with handsome finished looks to complement any building
Utilizes conductive aluminum alloys, precision manufacturing, dependable self-regulating heat cable, energy-efficient controls
Proven. Endorsed by engineers, architects, and homeowners alike.
Prevent those dangerous icicles and frozen gutters
Be prepared for next winter. Contact Summit today at 530-583-8888 for your free expert consultation and engineered ice melt system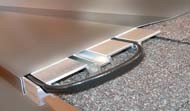 THE PRO® ICE MELT SYSTEM PREVENTS ICICLE FORMATIONS AND ICE DAMS
Summit Ice Melt Systems' PATENTED PRO was developed to answer the overwhelming need for a safe, reliable, effective, and truly energy-efficient means to eliminate dangerous ice dams and icicles.
Summit's systems focus heat right where it's needed: the eave edge. No need to waste energy by heating the entire roof. Leave that old-school myth behind and find out how Summit's systems work.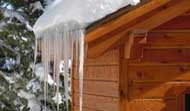 WHAT ARE ICE DAMS AND WHY SHOULD YOU BE CONCERNED?
Ice dams are a natural occurrence in snow country. They form when certain conditions co-exist. During these conditions, dangerous icicle and heavy ice formations develop.
Ice dams can cause leaks that lead to interior damage and toxic mold. Ice formations fall off roofs and damage property and can kill or seriously injure people. Our forty-five+ years of experience with ice dams allows us to really examine in detail how they are formed and know what it takes to prevent them.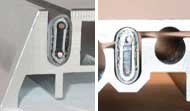 HOW WE MELT THE COMPETITION
The 4 Rules of Thermodynamics, as they relate to eave ice melting, seem to be a little-known secret among roof ice melt system manufacturers. We are the ONLY manufacturer confident enough to boldly compare our products side-by-side with the competition.
What distinguishes Summit from the competition? How do they measure up? Learn the 4 Rules and you will clearly understand the difference between our energy-efficient product line and the competition.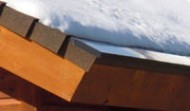 SUMMIT'S COMPLETE PRODUCT LINE
Summit is proud to offer Patented Roof Ice Melt Systems with a broad selection of designs that is tailored for every climate across the country. From the most demanding alpine climate to milder, lower elevation climates.
Summit has a complete system for you, including eave and valley elements, gutter and downspout heating, and control systems to automatically operate the system.
See It In Action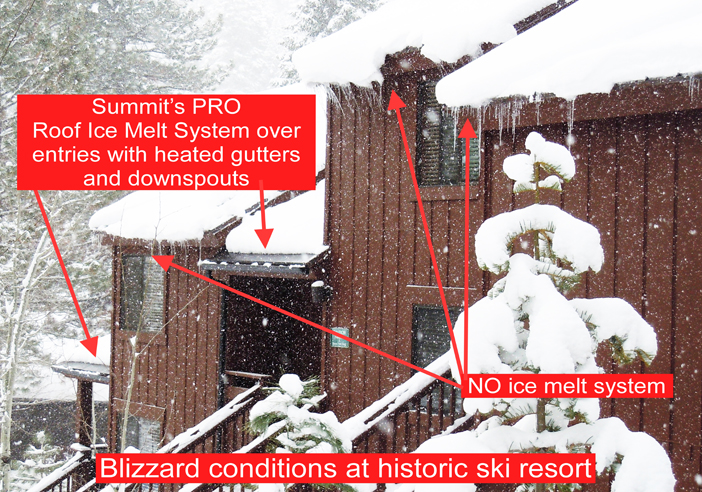 Click here to see
PRO Roof Ice Melt System doing its job
during a blizzard.
Product Catalog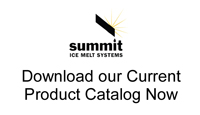 New! Click here to download
Summit Ice Melt Systems' Product Catalog!
Summit Ice Melt Systems
Commitment to Green Building:
Now members of SIGBA, the Sierra Green Building Association. Our mission it to educate and promote effective environmental building practices in the Sierra Nevada communities.