The PATENTED PRO® Roof Ice Melt System
PRO Installation and Operation Guide
Select the PRO when you want the greatest protection for your most demanding projects. It is our top-of-the-line ice melt system that's been proven in the toughest, snowiest, and coldest environments in America.
Like all Summit's systems, every feature of the PRO has been engineered to maximize energy-efficient heat transfer to the melting surfaces while minimizing heat loss via contact with the roof deck surface.
The UL rated, high performance self-regulating heating system includes a massive, highly conductive aluminum core to distribute heat only where it is needed. The attractive, metallic cover completes the low-profile, high-performance system.
While others claim energy-efficiency, Summit's unique background in thermodynamics, construction, and manufacturing make PRO ice melt system the true standout in the industry. NO ONE besides Summit dares to do a side-by side comparison of comparable products. Click the buttons below to see how we melt the competition.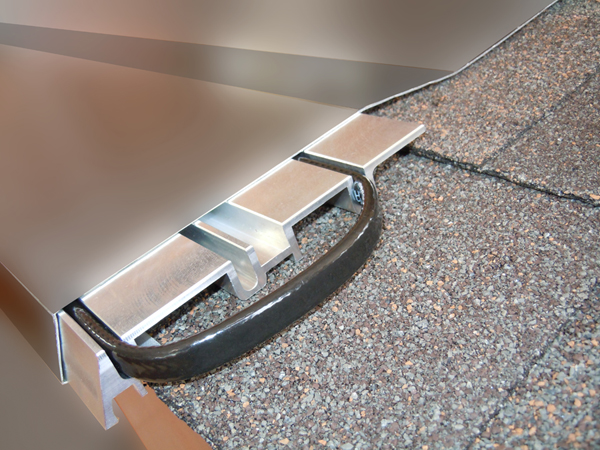 The PATENTED PRO is easily installed onto NEW AND EXISTING shingle roofs.
Compare to Company "A"Compare to Company "B"Why Choose Summit?
Specifications
Performance
PRO: Our commercial quality ice melt system that minimizes ice dam and icicle formations in moderate and heavy snow load areas for roofs expecting more than 15″ snow accumulations and annual snowfalls of greater than 100″ (mountain resort areas, lake effect snow areas, etc.)
Suitable for roof slopes 3/12 and greater
Warranty
Fifty (50) year warranty on the Base Panel
Fifty (50) year warranty on the Cover
Forty (40) year warranty on the Cover paint finish
Ten (10) year warranty on the heater cable (Extendable to 20 years on Pre-qualified projects)
See warranty for complete details
Power Output
Self-Regulating Heat Cable Provided:
UL Listed, CSA Certified, and FM Approved
2 runs per panel
Model S1 for 110V system
Model S2 for 208, 240, and 277V systems
Cover Materials
Real 20 oz. copper
Aluminum (High grade Kynar-500 finish)
Aluminum Cover Color Selection
12 standard colors
15 custom colors and metallics

Panel Lengths
Standard is 5′, available up to 10′
Supplied Components
Base Panel
Base Panel lag screws
Industrial Quality S1 and S2 self-regulating heater cables (2 LF of 12 watt/foot cable per foot of panel)
Cover Panels
Splice Covers
Accessories
S1 or S2 self-regulating heater cable for leads, splices, gutters, and downspouts
4-, 8-, and 12- CDC 30A circuit digital ambient temperature controllers handle up to 4, 8, and 12 branch circuits, respectively
Power Connection and Splice kits
Custom, High-Efficiency UL distribution panels for up to 18 circuits with 10″ touchscreen, ethernet connectivity
Expert Layout and Design Assistance
#100 PRO Data Sheet Learn How The System Works
Learn How to Get Your ice melt System Learn How the System Is Controlled
Learn in Which Snow Classification Your Project IsClick Here For Additional Technical Info and Downloads