S1 and S2 – 12 Watt/foot High-Performance Self-regulating Heater Cables Features, Specifications, Testing, Circuit Lengths, and Approvals
Construction and Specs     Maximum Circuit Lengths     Standards     Approvals     Download Documents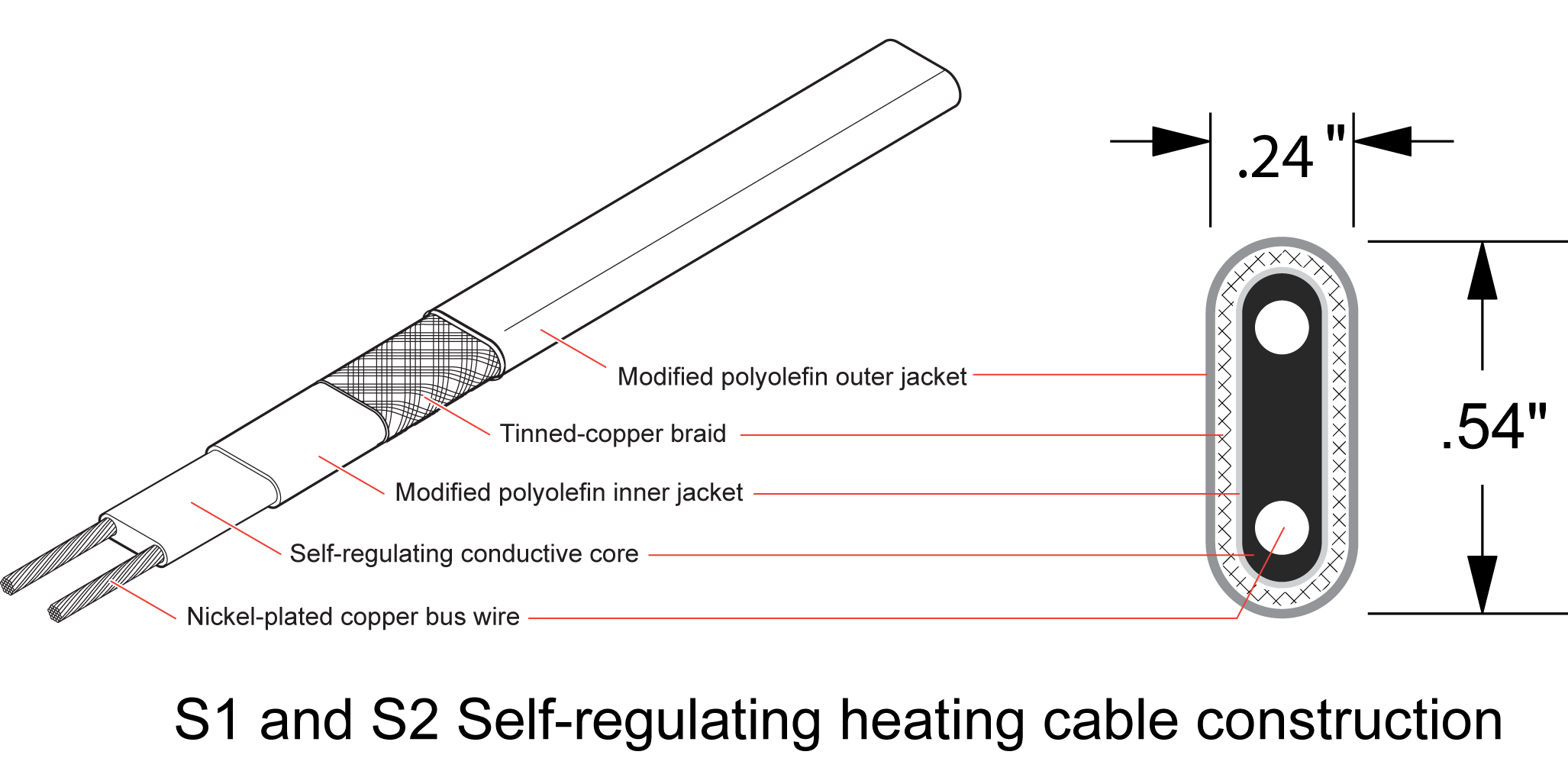 Jump to EverClear Economy heater cable page
Summit's S1 (120Vac) and S2 (208-277Vac) 12 watt/foot High-Performance heater cables at the heart of Summit Ice Melt System products. They are industrial grade, self-regulating heaters. Customers can be assured that they are getting the highest quality product from a company that has the most extensive experience in designing roof and gutter de-icing systems.
The cables are comprised of two parallel nickel-coated bus wires in a cross-linked polymer core, a tinned copper braid and a heavy duty protective polyolefin outer jacket. They meet or exceed all established industry standards as indicated below.
The cables are used in Summit's ice melt systems, extend into gutter and downspout systems, and are controlled in conjunction with the ice melt system. The combination of the Summit Ice Melt Systems with heated gutters and downspouts provide the ultimate in ice and meltwater management in snow country.
Cable Construction and Specifications
Bus Wires (2) . . . . . . . . . . . . . . . . . . . . . . . . . . . . . . . . 16 AWG, Nickel-plated Copper
Heating Core . . . . . . . . . . . . . . . . . . . . . . . . . . . . . . .Radiation Cross-linked Polyolefin
Primary dielectric insulation . . . . . . . . . . . . . . . . . . .Radiation Cross-linked Polyolefin
Metallic Braid . . . . . . . . . . . . . . . . . . . . . . . .14 AWG (equivalent size) Tinned Copper
Outer Jacket . . . . . . . . . . . . . . . . . . . . . . . . . . . . . . . . . . . . . . . . . . . . . . . . . .Polyolefin
Minimum Bend Radius . . . . . . . . . . . . . . . . . . . . . . . . . . . . . . . . . . . . . . . . . 1-1/4 inch
Dimensions – Max. Width. . . . . . . . . . . . . . . . . . . . . . . . . . . . . . . . . . . . . . . . . .. . 0.54″
Dimensions – Max. Thickness. . . . . . . . . . . . . . . . . . . . . . . . . . . . . . . . . . . . . . . .0.24″
Supply Voltage . . . . . . . . . . . . . . . . . . . . . . . . . . . . .(S1)120 Vac or (S2) 208-277 Vac
S1 (120Vac) and S2 (208-277Vac) High Performance 12 Watt/foot Roof Heater Cable Maximum Circuit Lengths In Feet
Model Number
Operating Voltage
Start-up Temp
Design Load
(Amps/foot) @ 0° F.
Startup
Circuit Breaker Size
20A
30A
40A
S1
120 Vac
20° F.
135
175
175
0° F.
0.155
105
155
175
S2
208 Vac
20° F.
245
350
350
0° F.
0.083
190
290
350
S2
240 Vac
20° F.
250
350
350
0° F.
0.080
200
295
350
S2
277 Vac
20° F.
255
350
350
0° F.
0.077
205
310
350
S1 and S2 Cables Meet or Exceed the Following Standards:
Abrasion Resistance. . . . . . . . . . . . . . . . . . . . . . . . . . . UL1588(8.3);IEEE515.1(4.3.4)
Vertical Flame. . . . . . . . . . . . . . . . . . . . . . . . . . . . . . . . . . . . . . . . . . . . . . UL1588(8.5)
UV and Condensation. . . . . . . . . . . . . . . . . . . . . . . . . . . . . . . . . . . . IEEE515.1(4.3.2)
Temperature. . . . . . . . . . . . . . . . . . . . . . . . . . . . . . . . . . . . . . . . . . . . UL1588(9.1-9.3)
Resistance to Crushing. . . . . . . . . . . . . . . . . . . . . . . . . . . . . . . . . . . . . . . UL1588(8.1)
Resistance to Cutting. . . . . . . . . . . . . . . . . . . . . . . . . . . . . . . . . . . . .IEEE515.1(4.3.3)
Resistance to Impact. . . . . . . . . . . . . . . . . . . . . . . . . . . . . . . . . . . . . . . . .UL1588(8.2)
Dielectric Withstand. . . . . . . . . . . . . . . . . . . . . . . . . . . . . . . . . . . . . .IEEE515.1(4.2.1)
Deformation. . . . . . . . . . . . . . . . . . . . . . . . . . . . . . . . . . . . . . . . . . . . IEEE515.1(4.2.8)
Cold Bend. . . . . . . . . . . . . . . . . . . . . . . . . . . . . . . . . . . . . . . . . . . . .IEEE515.1(4.2.10)
Approvals

Download Documents