LowSlope® Roof Ice Melt System
Our unique LowSlope roof ice melt system is a very versatile profile designed for ice dam and icicle prevention on all flat or near-flat roofs, including metal roofing, built-up roofs, EPDM, PVC, APP and SBS roofing. It may also be customized to fit any plumb or square fascia with different roof slopes to accommodate special needs. An extended drip edge may be integrated into the Cover Panel to direct meltwater further away from the fascia, or act as an integrated cleat in a standing seam metal roof system.
Our exclusive design isolates the roof ice melt heating system from the fascia. This maximizes heat to the top melting surface, minimizes heat loss, and provides a very effective, energy-efficient roof edge ice melt system. The extended drip edge keeps runoff away from the fascia, making it easy to integrate a heated gutter system to safely carry the melt water through the downspouts system.
Installation is easy. The integrated Base Panel and heavy extrusion are first attached to the roof. Heater cables are then installed in the base. The Panel Cover interlocks with the base panel and has a finished painted surface or is pure copper. The system is then counterflashed by the roofing materials.
Select LowSlope for all your low pitch and flat roof projects where ice dam and icicle prevention is needed.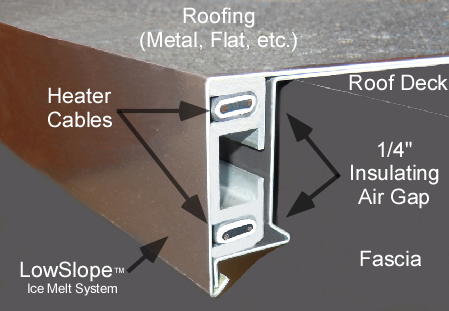 LowSlope roof ice melt system for metal, composition, and flat roofs
Specifications
Performance
For minimizing ice dams and icicle formations on flat roofs of metal, APP, SBS, EPDM, PVC, tar and gravel, etc., even low-pitched composition shingle roofing.
May be used on any slope where the heating element is desired on the fascia, not on the roof plane. May be customized to fit plumb fascias at any slope to accommodate special needs.
Like the PRO and LT Ice Melt Systems,  LowSlope enables gutter and downspout systems to safely carry away melt water.
Warranty
Fifty (50) year warranty on the Base Panel
Fifty (50) year warranty on the Cover
Forty (40) year warranty on the Cover paint finish
Ten (10) year warranty on the heater cable (Extendable to 20 years on pre-qualified projects)
See warranty for complete details
Power Output
Self-Regulating Heat Cable Provided:
UL Listed, CSA Certified, and FM Approved
2 runs per panel
Model S1 for 110V system
Model S2 for 208, 240, and 277V systems
Cover Materials
Real 20 oz. copper
Aluminum (High grade Kynar-500 finish)
Aluminum Cover Color Selection
12 standard colors
15 custom colors and metallics
Panel Lengths
Standard is 5′, available up to 10′
Supplied Components
Base Panel
Industrial quality self-regulating heater cables (2 feet per lineal foot)
Panel Covers
Accessories
S1 or S2 Self-regulating heater cable for leads, splices, gutters, and downspouts
4-, 8-, and 12-CDC 30A circuit digital ambient temperature controllers handle up to 4, 8, or 12 branch circuits, respectively
Power connection and splice kits
Custom, high-efficiency UL distribution panels for up to 18 circuits with 10″ touchscreen, ethernet connectivity
Expert layout and design assistance
Click Here For a Printable PDF Data Sheet
Click Here For Additional Technical Info and Downloads
Learn How to Get Your Summit Ice Melt System
Learn How the System Is Controlled